Traditions and Scenery

Located in the heart of the country, quaint Guaranda is the smallest provincial capital in the highlands. Its pleasant climate (22 to 25 degrees centigrade in the tropical regions) make it very popular with visitors, who are also attracted the area's cool paramo. The Carnival festivities of the area have gained fame throughout Ecuador.
Guaranda

Surrounded by the peaks of San Jacinto, Loma de Guaranda, San Bartolo, Cruzloma, Tililac, Talalac, and el Mirador, Guaranda is known as the City of the Seven Hills. At 2650m, this highland city is the smallest provincial capital in Ecuador. The Carnival festivities are very traditional and last for several days. Visitors are offered chicha (a local, maize-based alcoholic drink) and the popular firewater known as Pájaro Azul (Blue bird) which help them get into the spirit of the festivities.
Towns and Villages

San José de Chimbo (20 km from Guaranda) is famous for its skilled craftsmen who handcraft guitars as well as fireworks. Chimbo has a museum dedicated to the story of Christ's shroud and the locals worship the El Guayco Virgin. Near Chillanes (67 km from Guaranda) you can visit the archaeological remains of the Chillanes tribe and in San Miguel, the Guardias Caves (10 minutes from town) and the Virgin of Lourdes Grotto (20 minutes from town) are a must-see for tourists.
Cruz Loma Hill

Cruz Loma offers a panoramic view of the entire city of Guaranda. The town is also home to a monument to the Indio Guaranga as well as a small museum containing the independence arms, historical documents, archaeological remains, and centuries-old artwork.
Cochas Lake

Lake Cochas is an artificial lake located 10 km from Guaranda. It is a popular destinaiton where visitors can go for a boat ride, admire the beautiful gardens and surrounding lanscape, and try some local delicacies.
Zumbi Hill

A few kilometers from Chimbo stands the pyramid-shaped Cerro Zumbi. It's considered to have been an ancient place of worship to the Gods Cuiche and Katekil.
Catequilla Hill

These hot springs are a few minutes from Chimbo and their medicinal properties attract visitors from all over.
Culture & Traditions - A Fair to Enjoy

Dating back centuries, the Guaranda Fair is a well known local celebration during which locals parade through 15 de Mayo Plaza on mules and on horseback, dressed up in gold ponchos, black hats, and masks.
Cuisine

Fritada (fried pork), mashed plaintains (known as bollos), sweet hornado (roasted pork), and empanadas (pastries filled with meat and cheese) are traditional fare in Guaranda.

Map of Bolívar, Ecuador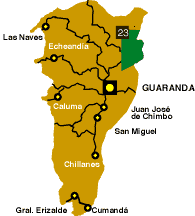 Province's Capital
Road
Cities
Chimborazo
| Bolívar Intro | Guaranda | Towns & Villages |
| Cruz Loma | Cochas Lake | Zumbi Hill | Catequilla Hill |
| Culture | Cuisine | Map of Bolívar, Ecuador |