Nature Reserves and Mysterious Grottos

Carchi, home to towering mountains such as Volcano Chiles (4,768 m) and an alpine climate with an average temperature of 12 degrees centigrade, is Ecuador's northernmost province. The province is home to some of the nations most impressive protected areas, such as El Angel Reserve, and several interesting and colorful towns. One of its major attractions is the Gruta de la Paz (the Grotto of Peace). Carchi also has a domestic airport with connecting flights to various cities throughout Ecuador and a handful of flights to southern Colombia.
Tulcán - A Very Special Cemetery

Tulc?n is home sights well known throughout the world, such as its Municipal Cemetery, known for its cypress hedge sculptures. Other points of interest include the provincial capital's Culture House and Colegio Bol?var's Archaeological Museum, which houses remnants of the ancient Carchi culture.

Points of interest outside of the town itself include the Pre-Colombian ruins of Chap?es Hill, the Tres Chorros Hot Springs, and Las Canoas, a great place for a boat ride or horseback riding.
Chota Valley - Afro-Ecuadorian Traditions

Largely populated by the descendants of those who arrive in colonial times to work the sugar cane harvest, Chota Valley and the village of Juncal are home to many Afro-Ecuadorian communities who live a traditional way of life very different than that of the rest of Ecuador. Popular events such as the Banda Mocha (musical group playing traditional, locally made instruments) and the Bottle Dance (women dancing with bottles on their head) enthrall visitors.
Cuisine

The traditional food here is made up of potatoes, beans, corn on the cob, pork, guinea-pig, and chicken. There are several local dishes, the most well-known being the hornado pastuso (roast pork with potato cakes, beans, and small potatos).
El Angel Ecological Reserve

The paramos of El Angel Reserve, located just a few minutes from the settlement of the same name, has a cool climate and is home to a variety of flora, such as the unique frailej?n plant. Home to a large number of highland lakes and forests, the Reserve is the habitat of a variety of mammals, such as deer, rabbit and the paramo fox, and a slew of endemic bird species.
AWA Ethnic and Forest Reserve - Ethnography and Ecology

In the western part of the province, 145 km from Tulc?n along the road that joins the villages of Maldonado and El Chical, is the Tobar Donoso settlement. The settlement is a great launching point for an excursion to the AWA Ethnic and Forest Reserve, an area of natural forest that is home to several interesting species of flora and fauna such as the palet?n, the macaw, the trogon, and the red flower (anturio) as well as chandul and guaiacum trees. The AWA indigenous group, who still preserve their traditional way of life, also inhabit this state-protected area.
Hot Springs

Another of Carchi's attractions is a group of hot springs whose waters rise from Volcano Chiles and are said to have strong medicinal properties.
Lakes

Five small lakes make up theLagunas Verdes (Green Lakes) complex. Surrounded by frailej?n paramo and home to animal species including bears, deer, rabbit, and foxes, this spot is a great place for adventurers. The area is also home to the El Voladero lakes, at an altitude of 3,700m, where you can fish for enormous trout.
Volcano Chiles

To the north of the province, near the Tufiño-Maldonado road, this 4,768 m volcano is a popular destination for mountaineering.

Myrtle Forest

The Santa Martha de Cuba Myrtle Forest lies seven km from the village of San Gabriel. With a reddish trunk and thick foliage and covered in moss and orchids, these trees cover an area of about 40 hectares and is a great place for hiking and bird watching, alike.
Paluz Waterfall

Located just 4 km from San Gabriel, the Paluz River drops an impressive 30 m down a breathtaking waterfall of the same name. The area's exuberant vegetation is reflected in the waters of this awe-inspiring river.
Gruta de la Paz (Grotto of Peace)

Twenty three km from San Gabriel lies a cave formed by the Apaqui River. This is where the sanctuary to Our Lady of Peace can be found. Every week, thousands of pilgrims come to this spot and bathe in its thermal springs.

Map of Carchi, Ecuador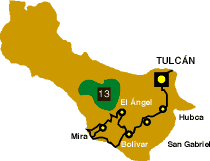 Province's Capital
Road
Cities
El ?ngel