The Lakes Province

Home to an uncountable number of lakes and other bodies of water, Imbabura is a great place for fishing and adventure sports. Located in Ecuador's northern highlands, the province enjoys a pleasantly dry climate with an average temperature of around 18 degrees centigrade. Its production of handicrafts has made its indigenous population, principally those from Otavalo, famous worldwide. The province is also well known for its Cotacachi-Cayapas Ecological Reserve. Imbabura's hotel facilities and tourist infrastructure are among the best in the country.
Ibarra - The White City and its History

With its beautifully paved streets and its colonial houses, Ibarra, also known as the White City, is one of the most visited towns in northern Ecuador. The older part of the city is line with white, one-storey houses built around ornamental and well-preserved parks such as Moncayo Park and La Merced Park. Art exhibitions are displayed in the Catholic University, the Universidad del Norte, the Culture House, and the Colegio de Arquitectos. There are also several museums with archaeological, numismatic, philatelic, and paleontological displays, among others. The town has a wealth of hotels, bars, and restaurants that serve delicious local cuisine. Outside Ibarra and throughout the province of Imbabura, there are lovely country hotels, both old and new, which welcome the visitor to the beautiful hidden corners of the area.
Indigenous Markets

Imbabura is most famous for its artisan markets. The biggest is in Otavalo, where indigenous people from dozens of local villages meet in the Plaza de los Ponchos to display their handcrafted textiles. The techniques used to make clothes, blankets, and wall hangings date back to colonial times. There are also other kinds of wares, such as native art, ceramics, jewelry, bags, and much more, all handcrafted by local artisans.

Southeast of Ibarra is the town of Cotocachi. Known as Ecuador's musical capital, Cotocachi is also famous for making high-quality, inexpensive leather goods. Throughout the town's center, a dozens of shops exhibit all kinds of beautifully made goods. Weekends are the best time to visit.
Peguche Waterfall

Very near to Otavalo is the indigenous village of Peguche, famous for its magnificent waterfall and its enormous stands of eucalyptus.
Cotacachi-Cayapas Ecological Reserve - From the Paramo to Rainforest

Visiting Cotocachi-Cayapas is a must for tourists who want to explore the Andean backcountry. One of the Reserve's main features is Cuicocha Lake (3,068m above sea level), located just minutes outside of Cotocachi. Motorboat trips around the two small islands in the middle of this breathtaking lake give the visitor the opportunity to get a glimpse of the local flora and fauna. The Reserve also contains rain forests and extensive paramos home to a variety of herbaceous species, lianas, and ferns.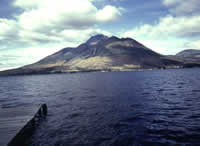 Imbabura is the Lakes province. The Lakes of Piñan, at an altitude of 4,000m, are ideal for hunting and fishing. Another area popular for camping is the Mojanda Lakes: Caricocha, Huamicocha, and Yanacocha. These lie at over 3,500m, just south of Otavalo. For rowing and sailing, travelers typically visit Lake San Pablo (2,500 m). Located next to the village of the same name, San Pablo is surrounded by indigenous villages, rushes, green fields, and haciendas. These traditional homesteads/hotels offer entertainment, relaxation, and delicious cuisine. Another popular lake is the crimson-colored Lake Yahuarcocha. According to local legend, this highland lake turned red after a bloody battle fought between the Caranquis and the Incas. Nowadays, it is more well-known for the racetrack that surrounds it, where national and international rallies are held.
Nangulv?

A short distance from Cotacachi, in the village of Intag, we find the Nangulví hot springs. Their warm waters and pleasant vegetation attract both locals and visitors.
La Esperanza and Zuleta

These two villages, not far from Ibarra, are famous for the fine, multi-coloured embroidery crafted by the local women. Other artisans in this village have gained fame for the leather goods they produce.
Culture & Traditions

In several villages in Imbabura (and other parts of the country), the indigenous people hold festivals to celebrate the harvest and in honor of the sun. The latter festival is known as the Fiesta de la Jora and is celebrated in the first two weeks of September. The celebrations includes music, dancing, feasting, and, of course, drinking lots of chicha de Jora, a locally produced, traditional alcoholic drink made from seven kinds of maize.
Cuisine

Carne colorada (steak cooked in a natural red colouring) and chicha de jora (local maize-based alcoholic drink), can be sampled in restaurants throughout Imbabura. Other local dishes include nogadas (walnut-based sweets), arrope de mora (blackberry syrup), helados de paila (handmade ice cream), and empanadas de morocho (white-corn pastries).

Map of Imbabura, Ecuador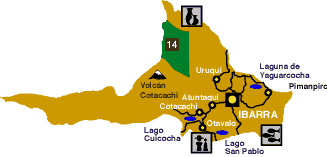 Province's Capital
Road
Cities
Fishing
Handicrafts
Ethnic Group
Cotacachi-Cayapas
| Introduction | Ibarra | Indigenous Markets | Peguche Waterfall |
| Cotacachi-Cayapas Ecological Reserve | Lakes | Nangulv? |
| La Esperanza & Zuleta | Culture & Traditions | Cuisine |
| Map of Imbabura, Ecuador |