Age old traditions in the jungle

Several indigenous communities, such as the Quichuas, live in Napo. The inhabitants traditionally have held on to and manifested their cultural identity by using native materials harvested in the rain forest to handcraft beautiful artisan products such as shigras (bags), ceramics, bows, and arrows. Located in northeastern Ecuador, Napo has a wet tropical climate.

Tena

The most active volcanoes in Ecuador - Sumaco (3900m), Reventador, and Sangay - can be seen from the Parque Central in Napo's capital city of Tena. Located at the confluence of the Tena and Pano rivers, Tena offers great bathing spots such as Rancho Alegre, Cocha del Cementerio, and Dos Ríos, amongst others. There is also a botanical garden in the center of the town called "Amazonian Park", which is ideal for ecologists. Tours into more isolated parts of the jungle depart from here.
Papallacta - Healing Hot Springs

Set high in the Ecuadorian Andes and surrounded by towering peaks, Papallacta is one of the prettiest places in South America to take a dip in thermal waters. Moreover, due to the mineral content and high temperature (between 35 and 64 degrees centigrade) of Papallacta's water, the hot springs have medicinal properties and healing powers. You can either camp on the shores of nearby lakes, such as Ninalviro and Paltacocha, or stay in one of the local hotels.
Archidona

The town of Archidona is located 10km from Tena. Dating back to the Spanish conquest of the area in the 16th century, the town has a rich history, a wealth of natural beauty, such as the Hollín Waterfall, and is great place to buy typically Amazonian artisan crafts.
Yasuní National Park - A Rich Natural Reserve
This enormous national park (approximately 982,000 hectares) encompasses the Yasuní, Nashino, Cononaco, and Tiputini river basins and is well known for the variety of bird species which populated its densely forested hillsides and its permanently flooded lowlands. Yasuní wildlife highlights include jaguars, harpy eagles, and caimans. The average temperature here is around 30 degrees centigrade. The park is accessed is by boat.
Jumandy Caves

This complex, based around three large caves, is 5 km from Archidona and a short distance from Tena.
Puerto Misahuallí

Located just 7 hours from Quito and 20 km from Tena, Misahuallí is a popular launching point for excursions deep into the Amazon. From here, you can go up the Napo river to visit Auca (a.k.a. Huaorani) settlements deep in the rain forest.
San Rafael Falls

On the road to Lago Agrio, you will the San Rafael Falls. At 160 m, this is Ecuador's highest waterfall. There is a path here which leads to a lookout point above the falls before continuing down to the base of the falls where you can take in San Rafael in all of its glory.
Handicrafts

There are several handicraft markets in Tena, Archidona, and Misahuallí where you can buy products handcrafted by artisans from different Amazonian communities. Shigras (bags), hammocks, ceramics, bows and arrows, spears, and blowpipe are just some of the things available.
Cuisine

Masato, made from yucca and banana, is a traditional dish in this region. Other dishes include Chontacuro, a species of worm; Uchamango, made with chilli and fish; banana colada; plantain soup with meat and boiled wheat, yucca soup, and chicha.

Map of Napo, Ecuador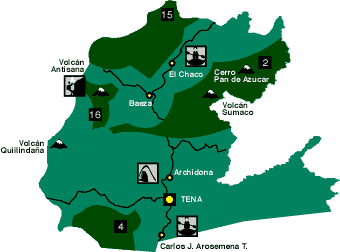 Province's Capital
Road
Cities
Climbing
Rafting
Caves
Sumaco Napo Galeras
Llanganates
Cayambe-Coca
Antisana
| Introduction | Tena | Papallacta | Archidona |
| Yasuní National Park | Jumandy Caves | Misahuallí |
| San Rafael Falls | Handicrafts | Cuisine | Map of Napo, Ecuador |