History Lies in the Capital

Quito, the provincial of Pichincha and the nation's capital, is the departure point for Ecuador's main tourist destinations. Due to its strategic location and well developed tourist infrastructure Quito is an ideal place from which to start a trip and a great place to hold both national and international conventions and other events. The city lies at the foot of the western Andes range and enjoys a spring-like climate, with temperatures ranging from 13 to 24 degrees centigrade. Its Mariscal Sucre Airport, is one of Ecuador's international terminals.

Apart from its historical capital, Pichincha has an abundance of interesting destination: protected areas with extensive forests and towering volcanoes, archaeological sites, and villages indigenous markets that sell the finest in artisan crafts.
Quito - Cultural Heritage of Humanity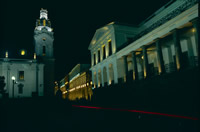 Situated in an Andean valley at 2,850 m above sea level at the foot of Volcano Pichincha (4,794 m), Quito is a modern city with a living history. One of Latin America's most historically important cities, Quito has been declared a Cultural Heritage of Humanity site by UNESCO. Noteworthy for its architectural beauty, Quito is home to numerous churches and convents built in the colonial period. The Metropolitan Cathedral, located in Independence Plaza, is one of the city's most impressive historical and architectural sites. Others worthy of mention are the following cathedrals and historical sites: San Francisco, la Compañía de Jesús, San Agustín, Santo Domingo, El Sagrario, La Merced, Carmen Bajo, San Sebastian, Santa Barbara, and San Blas. A large part of their interiors, especially the altars and pulpits, are gilded in gold and house innumerable works of religious art. Some of their museums hold valuable collections of paintings and sculptures belonging to the artistic genre which has been come to known as the Quito School.

Another important building is the Carondelet Palace, the seat of the Central Government. In Quito's historical center, with its steep, narrow, cobblestone streets, the artistic and architectural influence of Spain can be seen in the general architectural style of the homes, their balconies, their tiled roofs, and their interior patios. Another colonial area, outside the of Old Town, is the suburb Guápulo. Perched on the eastern slopes of the city, Guapalo's most impressive sight is its famous sanctuary to the Virgin of Guápulo, the oldest sanctuary of its kind in the country.

However, despite its rich living history, Ecuador's capital is at the same time a modern metropolis with a variety of hotel facilities to chose from, including many of the world's major hotel chains. Quito also has countless restaurants (serving national and international cuisine, alike), shopping centers, theaters, convention centers, and everything else that the most demanding tourist could possible need.

The city has its annual festival in December, when festivities such as bullfights, the election of the Queen of Quito, national and international concerts, street dances, and fireworks turn Quito into the site of a national gala for an entire week. The celebrations are in honor of founding of Quito on December 6, 1534 by Sebástian de Benalcázar.
Cayambe-Coca Ecological Reserve

Covering over 400,000 hectares in area the Cayambe-Coca Ecological Reserve is located in the provinces of Pichincha, Imbabura, and Sucumbíos. Its main attraction is the snowcapped peak of Cayambe. Towering 5,790 m above sea level, Cayambe attracts mountaineering buffs from all over the globe. Those not bent on climbing to the dizzying altitudes of Cayambe flock to the Reserve to hike around its many lakes and through its vast forests. Moreover, the hot springs of Papallacta, which lie at the park's entrance just two hours from Quito, are another very popular destination, especially on weekends.
Mindo-Nambillo Forest Reserve - A Unique Nature Refuge
Mindo, situated approximately 2 hours northwest of Quito, is the country's most important nature reserve for bird watching. Roughly 500 species of birds can be found in this cloud forest.. The area also is home to humid semitropical, primary, and secondary forests. In the midst of all this exuberant flora, a variety of mammals, reptiles, and brightly colored butterflies also thrive. Moreover, the area's rivers and waterfalls provide a beautiful backdrop and limitless opportunities for water sports.
Pasochoa Forest Reserve

Located just an hour from Quito, Pasachoa Forest Reserve is popular destination for tourists and nature lovers. This 1,000 acre Reserve is the habitat of a large number of birds and mammals. Home to roughly 120 kinds of birds, the Reserve's forests are filled with the songs of such species as blackbirds, plateros, and turtledoves. Rich in vegetation, trees such as the pumamaqui and the alder cover the Reserve's hillsides, which can be climbed by all types of nature enthusiasts on guided and self-guided paths. Pasachoa has a souvenir shop, a museum, and a campsite.
Culture & Traditions

Throughout Pichincha, highland villagers celebrate traditional, religious, and pagan festivals. On May 2nd, the Lord of Good Hope is celebrated in Checa. In June, the Middle of the World, Cayambe, and Sangolqu? hold the Maize and Tourism Festival. San Pedro and San Pablo festivities are held in Cayambe, Pomasqu?, and Tabacundo on July 29th. On September 24th, Quito pays homage to the Virgin of La Merced and the La Fiesta de la Virgen is celebrated in El Quinche on November 21st when mass pilgrimages to El Quinche, one of the country's major religious sanctuaries, are made by the nation's faithful. In March and April, Easter celebrations are held all over the country, the most impressive of which being Quito's Good Friday (or Jes?s del Gran Poder) processions.
La Mitad del Mundo - Where the Planet is Divided

The village of La Mitad del Mundo (Middle of the World) is just 20 minutes outside of Quito. This tourist complex, constructed to mark the equator's passage through the nation, is a typical Andean village. On one side of the village's plaza, and featuring as one of the main buildings, is the Equator Monument, with a lookout point at the top. The structure houses an anthropological museum which showcases artifacts collected from all over the country. Around it there are other attractions such as a small planetarium and a model of colonial Quito. There is also a walkway lined with the busts of the scientists who took part in the Geodesic Mission which came to Ecuador to measure the meridian arc dividing the world into two hemispheres. Each of the nationalities of the members of this mission is represented by their own pavilion.
Cayambe

Cayambe is 45 minutes north of Quito. This quiet village, famous for its milk and biscuit production, is the gateway to the snowcapped mountain of the same name. One of its traditions is the celebration of the San Pedro and San Pablo festival in June.
Calder?n

Calderón, just 15 minutes from the capital, is known for its baked bread products. These small, soft, brightly colored treats, depicting typical Ecuadorian characters and other themes, are as attractive as they are delicious and are sold throughout the town.
Sangolqu? and Conocoto

These two small towns, located just south of Quito in the Chillos Valley, are often frequented on weekends for their local dishes. Outdoor markets sell typical food such as potato cakes, roast pork, and chicha (a maize-based alcoholic drink).
Cochasqu?

North of Quito lies the ruins of Cochasqu?. This is an archaeological site with burial pyramid and mounds which belonged to Quito's first inhabitants. The pyramids were made of local volcanic material called cangahua. To reach the site, take the road leading from Guayllabamba to Tabacundo.
Rumicucho

This complex, 4 km north of San Antonio de Pichincha, contains ruins which are pre-Incan in origin. The Pucar? de Rumicucho ruin was a military fortress, strategically used by the Incas in their conquest of the northern Andes.
Pululahua Geo-botanical Reserve

Pululahua, as it is commonly known, is a unique volcano – its fertile crater is farmed by the villages that inhabit it. The scenery, which can be admired from the Reserve's lookout point, is unbeatable. Pululahua, located along the road to Calacalí, is located 40 minutes from Quito.
Santo Domingo de los Colorados

Situated between the highlands and the coast, Santo Domingo, a progressive town surrounded by lovely scenery, is a great place from which to explore tropical forests, rivers, and waterfalls in addition to being a great destination for wildlife watching. A natural crossroads between the nation's coast and highlands, Santo Domingo has first-class roads leading to Guayaquil, Manab?, Esmeraldas, and Quito. Its population lives primarily off of agriculture, growing banana, sugar cane, and African palm, among other products. The area is traditionally known for the Ts?chilas natives(also known as Indios Colorados or Red Indians), who live there, maintaing their way of life and customs, one of which is that the men dye their hair red with dye obtained from achiote, a small red fruit native to the area.

Map of Pichincha, Ecuador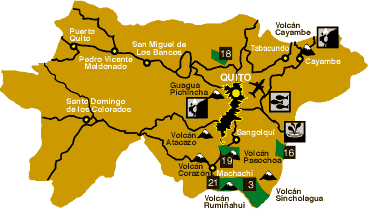 Province's Capital
Road
Cities
Hiking
Fishing
Thermal Waters
Cotopaxi
Antisana
Pululahua
Pasochoa
El Boliche
| Introduction | Quito | Cayambe-Coca Reserve | Mindo Reserve |
| Pasachoa Reserve | Culture & Traditions | Mitad del Mundo |
| Cayambe | Calderón | Sangolquí and Conocoto | Cochasquí |
| Rumicocho | Pululahua Reserve | Santo Domingo |
| Map of Pichincha, Ecuador |