| El Oro Introduction | Points of Interest | Jambelí Island |
| Puyango Petrified Forest | La Cocha | Santa Clara Island |
| Cuisine | Map of El Oro, Ecuador |


Agricultural and Mineral Wealth

Famous for its abundant production of high-quality bananas, El Oro is a primarily agriculture, commercial province and is home to one of the nations major ports, Puerto Bolívar. With calm-water, mangrove-backed beaches, the island of Jambelí is one of the Province's most popular tourist attraction. In general, the area's semi-humid tropical climate (average temperature of 23 degrees centigrade) makes El Oro a great destination for sun-seekers.
Points of Interest - From Kingdoms to Colonial Architecture

Every September 24th, Machala celebrates the World Banana Fair with a variety of events, such as the selection of the Banana Queen. Commerce has turned it into a lively town, with first-class accommodations and restaurants offering delicious local delicacies. The main square, Abd?n Calder?n, with its Cathedral, and the residential sectors are worth a visit. Trying some of the coast's best seafood in Puerto Bol?var is also a must.

Another point of interest is Zaruma, a quiet village whose beautiful colonial homes and architecture have made it a national heritage site. While in town, be sure to try a cup of the town's delicious coffee, produced locally in a climate which is also warm and sunny.

Seven km outside of Zaruma and 80 km from Machala is Portovelo, a city famous for having the country's oldest gold mines. Portovelo is also home to beautiful colonial houses dating back to the beginning of the last century as does the village Pi?as, 65 km from Machala.
Jambel? Island - Vegetation and Cuisine

El Oro's main attraction is the Jambelí archipelago, a group of small islands surrounded by mangroves, with clean beaches, calm water, and abundant vegetation. The islands can be reached by motorboat from Puerto Bolívar. Small hotels and restaurants offer basic facilities for visitors.
Puyango Petrified Forest

South America's oldest forest lies 110km from Machala, covering an area of 2,659 hectares. In this small valley, we find an incredible variety of tree, vegetable, and animal fossils that date back to prehistoric times and constitute one of the planet's most important ecosystems.
La Cocha

This fluvial spa set in a tropical paradise is visited by travelers from all over the world. La Cocha, situated 25 kms outside fo Pasaje and 55 kms from Machala, is a heated backwater of the Jubones River.
Santa Clara Island

Only 40 km from Puerto Bolívar lies Santa Clara Island, noteworthy for being Ecuador's largest refuge for sea birds. It has a small beach which is used by both local fishermen and tourists visiting this charming islet.
Cuisine

Based largely on seafood, the province's cuisine offers a variety of delicacies made with lobster, shellfish, squid, and mussels. Among the area's most popular dishes are grilled shellfish, shrimp ceviche, rice and beans, bol?n de verde (ripe banana fried and filled with meat and cheese), and the famous tigrillo (a delectable treat made with banana, egg, and cheese).

Map of El Oro, Ecuador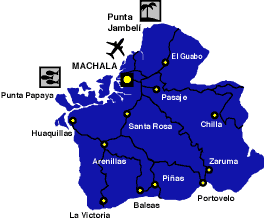 Province's Capital
Road
Cities
Spas
Fishing