From Folklore to Fun

The Green Province, as it is called, is located on the country's northwestern coast. Here, the temperature ranges from 21 to 25 degrees Celcius. Its main attraction are the beaches in the southern part of the province as well as the Cayapas-Mataje Ecological Reserve to the north. The city of Esmeraldas, the provinces capital, is one of Ecuador's main ports and terminal for the nation's petroleum pipeline. The city is also equipped with a domestic airport, with connecting flights available to Cali, Colombia.
Beaches, Cuisine, and Entertainment

Esmeraldas' beaches are undoubtedly one of its main attractions. Atacames, an all-year-round tourist resort, is just 30 km from the city Esmeraldas. Atacames' well-developed tourist infrastructure and plethora of seaside restaurants, bars make it a great beach destination for relaxing. It's markets selling locally made handicrafts, jewelry, and coral products make Atacames a great place for an affordable shopping spree, as well.

Five km further south is the quiet fishing village of Súa, which is also a great destination with comfortable hotels and delicious cuisine.

Forty eight km to the south lies the island of Muisne, known for its unspoiled beaches and tranquil waters.

Continuing southeast for another 11km, we arrive in Same, nestled among palm trees and set along a strip of coast known for its crystal-clear water.

Other popular beaches include Playa Ancha and Tonsupa, located 20 km from the city of Esmeraldas. There are more beaches to the north, towards the Colombian border, namely Camarones, Colope, and Río Verde, all of which are small fishing villages.
Marimba - Musical Folklore

Marimba is the typical music of the province of Esmeraldas. Marimba groups perform local dances and play instruments like "bombos", "conunos", and "guasá", not to mention the marimba itself - the genre's principle instrument, which is usually played by two or three people at a time. Marimba groups perform in various places, such as hotels and restaurants, and are warmly received wherever the jam. The band members wear hats and wave handkerchiefs as they dance and sing folk songs.
San Lorenzo - Life Among the Mangroves

This settlement is popular amongst adventure-seeking tourists. Travelers typically reach San Lorenzo by taking a train, known as an "autoferro", from the highlands city of Ibarra, although road travel is also possible.

San Lorenzo is a timber-exporting port that lies 18 km to the south of the Colombian border. From here, there is easy access to virgin beaches such as El Chaucal and San Pedro as well as to tropical forests such as La Chiquita where you can discover unique species of flora and fauna thriving along hiking trails.
La Tolita Island - Treasure Just Lying Around

This is an archaeologically interesting area where one of Ecuador's oldest Pre-Colombian cultures existed. It is believed that the indigenous population here worked with platinum centuries before it was used in Europe. The site includes a museum run by locals and it isn't hard to find archaeological remnants lying around outside. To reach the island, take a motorized boat from San Lorenzo. The lovely crossing over the turquoise water beneath a scorching sun provides a great opportunity to admire the backdrop of mangroves and the seabirds flying overhead. For more information on La Tolita, please read our special report, "Time Has Stopped in a Place Called Tolita."
Cayapas-Mataje Ecological Reserve - The World's Tallest Mangrove

This ecological reserve, located in the northern Esmeraldas, is extensive and exuberant. The main feature of Cayapas-Mataje is El Majagual Forest, where the world's tallest mangroves grow. It is impressive to see their huge roots intertwined in marshland and creeks. Very close to here lies the small town of San Lorenzo.
Mache-Chindul Ecological Reserve

This reserve can be reached from the cities of Esmeraldas, Atacames, Muisne, or Pedernales (in Manabí). It has several attractions including: tropical rainforests, waterfalls, and various swimming holes. The total surface area of the Reserve is 70,000 hectares and it is home to the Cachis ethnic group.
Gastronomy - The delights of Creole Cuisine

Encococado de pescado (fish cooked with coconut) is very popular both with locals and travelers, alike. Other popular local dishes include: tapao (a fish- and plantain-based dish); fried plantains, empanadas, and bolas or bolones de verde (also made from plantains). Rice with beans, served with fried or grilled fish is also a staple of the Green Province's legendary cuisine.

Map of Esmeraldas, Ecuador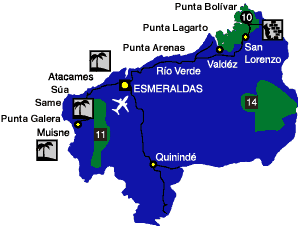 Province's Capital
Road
Cities
Spas
Archaeology
Manglar Cayapas-Mataje
Mache-Chindul
Cotacachi-Cayapas
| Esmeraldas Introduction | Esmeraldas Beaches | Marimba |
| San Lorenzo | La Tolita | Cayapas-Mataje Ecological Reserve |
| Mache-Chindul Ecological Reserve | Cuisine |
| Map of Esmeraldas, Ecuador |